Regular price
Sale price
$10.96 USD
Unit price
per
Sale
Sold out
Introducing our Portable Travel Bamboo Cutlery Set, an eco-friendly and convenient companion for your on-the-go lifestyle. This set includes essential utensils for enjoying your meals while reducing single-use plastic waste.
Crafted from sustainable bamboo, this cutlery set is not only lightweight but also durable, making it perfect for travel, picnics, camping, or everyday use. The natural beauty of bamboo adds an elegant touch to your dining experience while promoting environmental sustainability.
The set features a stainless steel straw and a pair of chopsticks, allowing you to enjoy your favorite beverages and meals with ease. The stainless steel straw is reusable, making it an excellent alternative to disposable plastic straws. It is also easy to clean and maintain, ensuring hygienic and enjoyable sipping wherever you go.
The included chopsticks provide a traditional touch to your dining rituals. Made from high-quality bamboo, they are sturdy and comfortable to hold. Whether you're indulging in sushi, noodles, or other Asian delicacies, these chopsticks are designed to enhance your dining experience.
This portable cutlery set comes in a compact and sleek carrying case, making it convenient to carry in your bag, backpack, or purse. It keeps your utensils organized, preventing them from getting lost or dirty. The case is also easy to clean, ensuring that your cutlery remains hygienic and ready to use.
With our Portable Travel Bamboo Cutlery Set, you can enjoy your meals while making a positive impact on the environment. Say goodbye to single-use plastic cutlery and embrace a more sustainable way of dining. Take a step towards a greener future by adding this versatile and eco-friendly set to your travel essentials.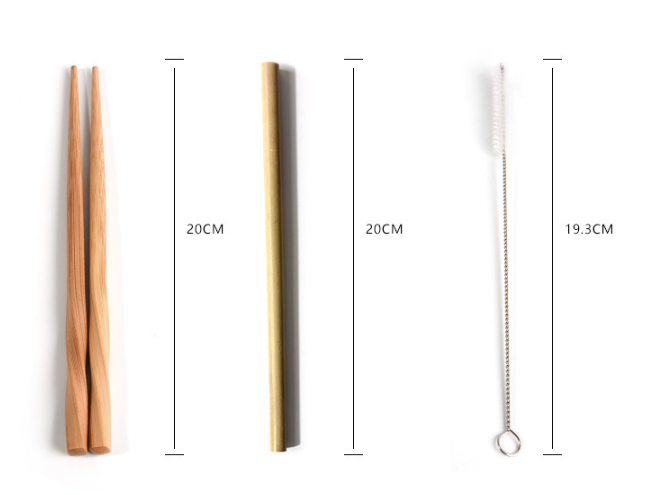 Share
View full details
Very nice.
I am satisfied with my purchase and will continue to use it on all my trips.